When prototyping new Arduino gadgets, I often find the need to use a push button or two. They are quite easy to hook up to the breadboard, but it's even easier if the buttons are already hooked up on a buttonshield!
Therefore, I made a small four-button "shield" for my prototyping needs. The design is really simple and you have to wire up VCC, GND and one wire for each button you want to use.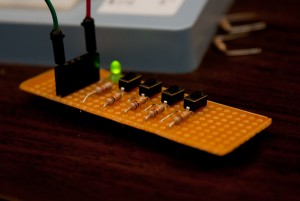 I added a green LED, because, as the old Chinese proverb goes, you can never have too many LEDs. I put some rubber feet on it so it doesn't get shorted out on my desk!