I've often felt the need for a steady five volt output that I could use to test various components, such as LEDs, push button, rotary encoders and so on. After seeing a few examples on the internet, I decided to build my own little five volt box. I wanted to build the whole thing into a small box and wanted it to have an on/off switch.
This was a fairly straight-forward project: I made a box that delivers 5 volts. As input it takes anything between 7-17 volts (DC) and outputs 5 volts. The concept is fairly simple and the real work is carried out by a voltage regulator accompanied by two capacitors. I built it into a small project box and added an on/off switch and a small green LED to indicate that it's working. The design is very simple, and great examples can be found all over the internet. I found some nice test clips which I use for the five volt output. These clips retract when not used, which means they can just lie around and I don't have to worry about them shorting out.
Actually, I made two outputs on the box– both delivering 5 volts. I thought it might come in handy to be able to power two 5 volt thingies simultaneously.
Last time I ordered electronics online, I accidentally bought 3mm LEDs (instead of the 5mm ones I usually work with). So I decided to try them out in this project. It doesn't fit as snugly in its holder as my 5mm LEDs usually do, but maybe I did something wrong. It looks okay though. I think green should indicate everything is working, don't you?
My oscilloscope tells me the output is nice and steady, even if the input is a fairly cheap non-switched wall-wart power supply.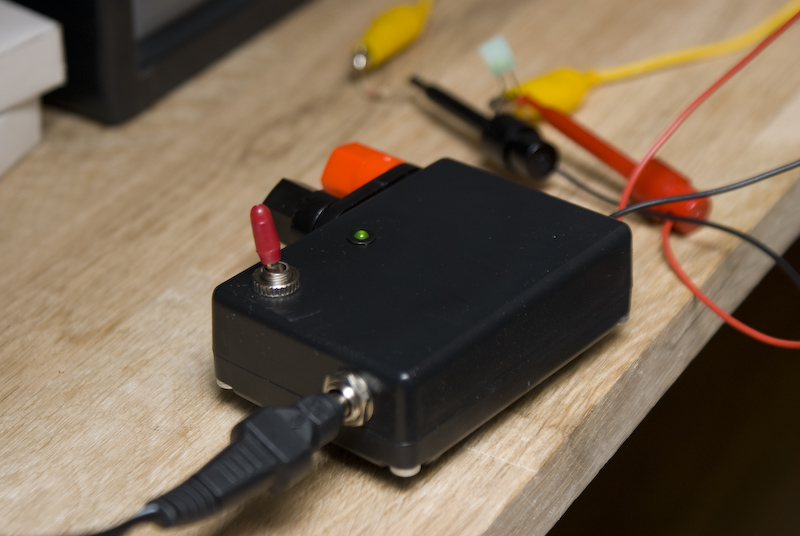 This was a not-so-difficult-but-quite-useful project that was fairly quick to build and straight forward. I'm sure I'll find good use of it, and I enjoyed making it. A perfect combination!